Dental care is one of the most neglected pet health needs. Puppies and kittens can become accustomed to proper dental care by periodic brushing with a pet toothpaste. Peridontal disease is very common in older dogs and causes bad breath, and often serious infections. A dental exam can determine whether your pet needs preventive dental care such as scaling, polishing, and antibiotics.
Oral disease is the most common health problem treated in small animal clinics today.
An oral examination and dental prophylaxis is recommended annually for all adult dogs and cats.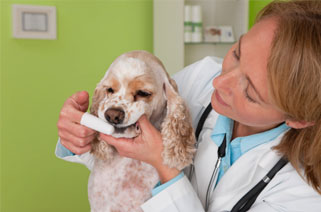 QUICK BITES ON PET DENTAL CARE
Puppies develop 28 temporary teeth at two to three weeks of age. Their 42 permanent teeth emerge at about four months.
Studies show that by age 3, 80 percent of dogs exhibit signs of gum disease.
Small dog breeds are more likely than large breeds to develop periodontal disease. Canine dentistry experts believe this is because the teeth of small dogs often are too large for their mouths, forcing the teeth closer together.
Kittens have about 26 temporary teeth at two to three weeks of age. Their 30 permanent teeth erupt at about three to four months.
According to studies, about 70 percent of cats have signs of gum disease by age 3.
Cervical line lesions are the most common tooth disease in domestic cats. Studies show that about 28 percent of domestic cats develop at least one of these painful lesions during their lifetime.
In addition to providing regular dental checks for their pets, pet owners can take steps at home to ensure good oral health:
Feed a specially formulated pet food with proven oral health benefits in daily plaque and tartar control.
Brush the pet's teeth with a specially formulated toothpaste in flavors appealing to dogs and cats. Toothpaste for humans should not be used because it can upset stomach for pets.
The heart of animal health
Thousands upon thousands of loving pet owners take their pets to regular checkups at the veterinarian. After this annual routine, many feel they have provided the most complete care for their pets. But studies in recent years indicate this is not enough.
Veterinarians have learned that regular dental care is vitally important in ensuring pets overall health. A mouth full of bacteria can cause serious health problems for pets in addition to tooth loss or painful gum disease, according to the American Veterinary Dental Society.
"Oral infections, if left untreated, may infect other organs such as the heart, liver, or kidneys," said Dr. Ellen Logan, president of the AVDS and a senior scientist of oral care with Hills Pet Nutrition, Inc.
"Periodontal disease may cause bacteria and toxins to enter the bloodstream, carrying the infection to other parts of the animal's body."
Total pet healthcare - beginning with proper oral care - is the emphasis of the "Pets Need Dental Care, Too" campaign in February. The 1999 awareness campaign is the fifth annual observance sponsored by the AVDS, the American Veterinary Medical Association and Hill's during National Pet Dental Health Month.
The need for education is great. Oral disease is the most frequently diagnosed health problem for pets. An astounding 80 percent of dogs and 70 percent of cats show signs of oral disease by age 3.
That's why local veterinarians are an integral part of the pet dental health campaign. They play a key role in educating pet owners about the risks their pets face if oral care is not a priority. The growth of bacteria in a dog's or cat's mouth or on the teeth may lead to the formation of plaque and tartar. Plaque and tartar buildup then have the potential to cause periodontal infections that can spread to other organs. "In February, the month associated with love, show how much you care about your pet by beginning a regular pet oral care routine", said Logan.
The following steps suggested by veterinarians can put a bite into potential health problems:
TAKE YOUR PET TO YOUR VETERINARIAN FOR A DENTAL EXAM. Don't wait for his annual checkup if you suspect a problem.
BEGIN A DENTAL CARE REGIMEN AT HOME. Your veterinarian can suggest steps that may include brushing your pet's teeth. One of the most convenient and effective ways to combat oral disease is feeding specially formulated foods proven effective in removing plaque and tartar buildup. The Seal of Acceptance from the Veterinary Oral Health Council, an organization initiated by members of the American Veterinary Dental Society to guide consumers, appears on products that meet defined standards for plaque and tartar control in dogs an cats.
SCHEDULE REGULAR VETERINARY DENTAL CHECKUPS. These are essential in helping your veterinarian monitor the progress of your pet's dental health routine.
Please, take pet dental care to heart. It's one way to ensure good health and vitality for your best friend.